Shopping Cart
Your Cart is Empty
There was an error with PayPal
Click here to try again
Thank you for your business!
You should be receiving an order confirmation from Paypal shortly.
Exit Shopping Cart
Bojiffy Heating and AC
2100 Centennial Dr Suite 200 Hoover, AL 35216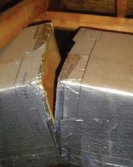 Large duct leaks like this waste energy, cause indoor air quality and comfort problems. Most electric power companies have energy efficiency programs to help eliminate this waste of energy. North Carolina's 2012 NC Building Code requires that all duct systems be sealed and pressure tested.
Researchers at the Florida Solar Energy Center found that sealing ductwork in existing homes cut cooling bills by about a third!

Sealing duct leaks with RCD Mastic saves energy.
From RCD Corporation, products available through BOJIFFY
This weekend we were asked to address the leakage in a homeowner's ductwork. What we found were several very large openings such as in the picture above. We sealed the gaps which were in the main supply and return ducts. My thought is that sometimes units are replaced in the hot summer in attics that are almost unbearable and the technicians are trying to get out before they pass out. This had not been our install and it seems the original guy was unavailable(last day of deer hunting maybe.
What a change in this homeowner's utility bill is coming up!!! We can seal your ducts!!! call 205-215-0553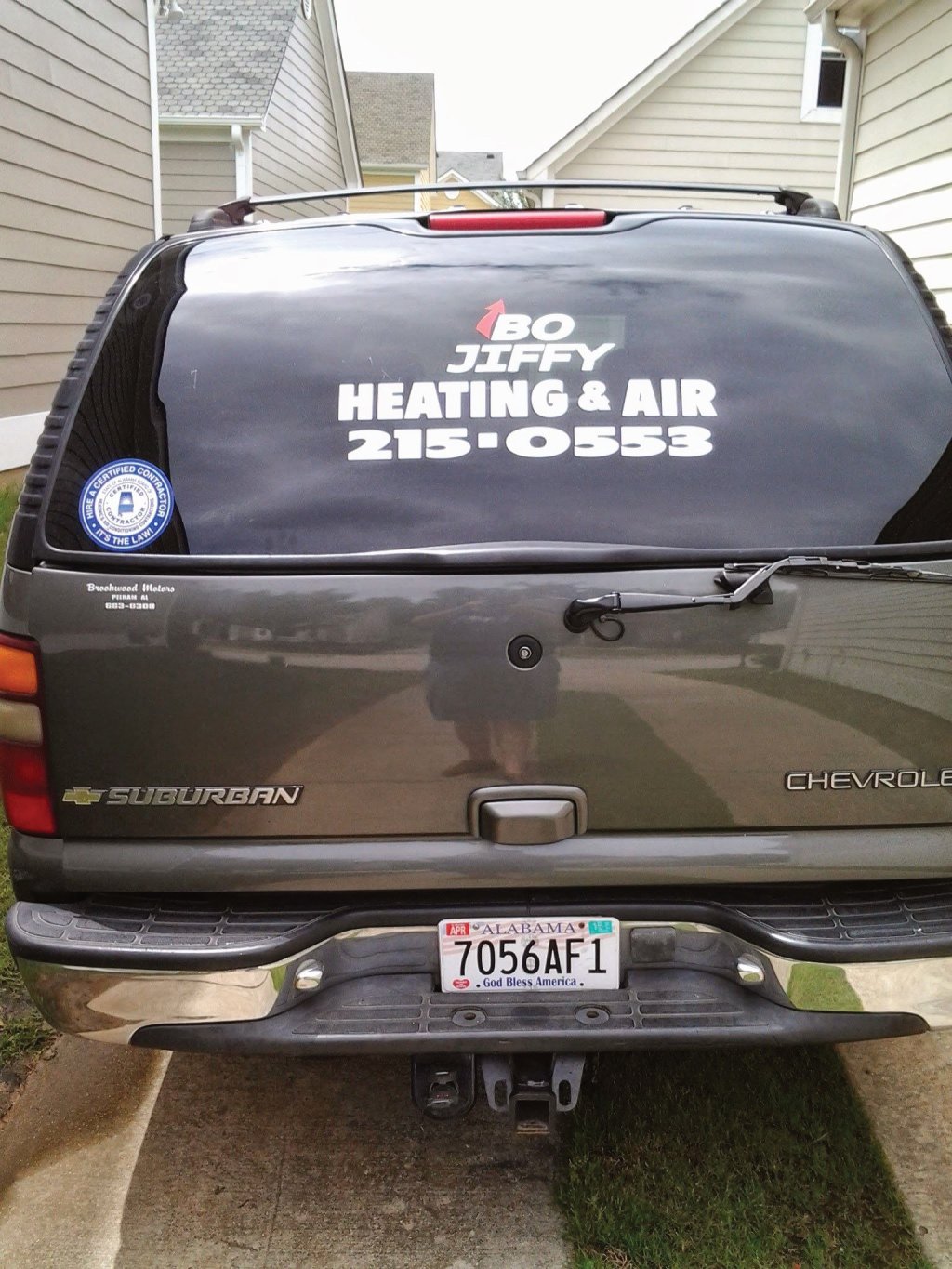 When it is cold outside and your heat pump is not heating, and you can tell because you set your thermostat at 70 and it will only get to 67 or less, you might have reached a heat loss rate that the heat pump by itself cannot overcome. That is normal at very cold temperatures and that is why people have auxiliary heat in the form of electric heat strips or a gas furnace.
But maybe yours is not "kicking in".
I have found that a lot of folks think you cannot have auxiliary heat and that you can just remember to switch to emergency heat. DUHHHHH Others jump the E and the W2 on the thermostat.
If you are too cold, Call me. I have fixed lots of these. Until then try emergency heat
note: some units have an outdoor temperature sensor the tells the unit to disengage and have the furnace take over if it is below a certain temperature. This needs to be set at a level above the break point temperature.
The picture above is Bojiffy pulling up to repair your unit!
Do not try this dyi this is absolutely a professional job. There are many safety considerations for working on gas furnaces!
Case: Homeowner smelled burning and then no heat. They used a space heater to get by. It was very cold.
 I went under the house to check and this is what I found: The furnace board was blinking to indicate a limit switch activation. I opened door and but manually pushed the door switch to restart the unit blower motor only hummed I checked the Capacitor with my multi-meter to see if it was good It was rated 7.5 mfd and read a little more than that. It was OK.
Next I checked the blower motor itself. Wow! it was burning hot and loose inside its bracket. That was the problem I had to remove the furnace board, then slide the blower out The unfasten all of the wires Then drag it 25 ft to the outside of the house. (on my hands and knees-that's why they call it a crawl space!) I carried it out to my truck and located the blower motor I had in stock. That saved me a trip!.I removed the bracket screws that held the motor inside the squirrel cage and then removed the nut that attached the motor to the fan wheel. I then reassembled the blower and this time I put it in the correct bracket and the motor did not move around like it had been. Now back under the house and crawl 25 ft to the furnace. I slid the blower back in place and rewired it correctly this time (the wires were wrong before) by stripping the ends and using new end nuts. I tested it and put the cover back on and taped some of the duct work back in place. 
The furnace is working great and everyone is happy and I made a new friend!!! This one was $350
Call today 205-215-0553
I've been looking at a lot of dual fuel heat pumps and I'll have to say that the configurations are a puzzle to a lot of us. First of all, you're dealing with a heat pump. That means that the same unit is used for heating and cooling. You have a reversing valve that makes it like turning a window ac unit around and blowing the hot exhaust into the house to heat it. A clever idea and very efficient.
Q;Why does my heat pump have ice and periodically make groaning sounds?
A:: Not only groaning sounds, but the outdoor unit fan stops and the ice thaws. This is a normal occurence because the condensed moisture on the outside unit needs thawing for the heat pump to work.Steam happens.
Q:My air supply blows cold while the outside unit is in this defrost cycle. Is that normal?
A:Your wiring may be wrong Your auxiliary heat should be compensating for the unit going into cooling mode(reversing)by heating the inside air.
Q: My Heat Pump has an outdoor sensor that is set to lock out the heat pump below 40 degrees and only use the furnace. Why is that? 
A; At a certain point, Heat pumps become less efficient and also the icing and defrosting  is not appealing to some.
Here are two ways of setting up dual fuel heat pumps
1. In the restricted mode of operation an outdoor
temperature sensor is used to cause the unit to operate in the
heat pump mode above a selected outdoor temperature and to
operate in the gas heating mode below the selected outdoor
temperature. The gas heat will operate with the heat pump when
the unit requires a defrost cycle. The gas heat is used to offset
the effect of the unit going into the cooling mode during defrost.
 The unit will be commanded to transition to
gas heat even when the outdoor temperature is above the
selected outdoor temperature changeover point if the heat
pump capacity is not enough to maintain the indoor temperature
at the desired heating setpoint.
2. A non-restricted mode of operation allows the unit to
operate in the heat pump mode during the first or second call, or
stage, of heat commanded by the indoor thermostat. During the
first stage of heat pump mode the heat pump will operate on low
speed. During the second stage, the heat pump will operate on
high speed. If the heat pump capacity is sufficient, gas heat will
not be required. If the heat pump capacity is not enough to
maintain the indoor temperature at the desired heating setpoint,
the thermostat will call for the third stage of heat. At that point,
the gas heat will begin to operate and the heat pump will be
locked out. As in the restricted mode, the gas heat will act as
supplementary heat during the unit's defrost cycle.
If the outdoor sensor is set high enough, the heat pump would not need the defrost cycle but efficieny would be lost.
If your heat pump is not using auxiliary heat to compensate for  the defrost cyle (blowing cold air) or the emergency heat will no coming on, you might have a simple and cheap to fix wiring situation. I have seen systems that had NEVER used their furnaces and noticed the problem when it got so cold. If your unit is a block of ice....
Call Bojiffy at 215-0553 make an appointment today!!!
Ok, I've got gas logs myself. There was a manual I could download from the model information. It told me how to service the unit and how it was supposed to work. I had a switch to the side of my bookshelf that activated the logs. There was a mechanical igniter that was used to create a spark,.I had to turn on the gas and light the pilot light. The flame sensor told the gas valve to stay open if there was a flame. The logs came on and created lots of heat, but the co detectors went off. Once the logs burned off the dust and particles, they did not set off the alarms. The logs look great and I really like having them for a heat back up. If you need some pointers call or email me.

This summer has been very busy.Many people are replacing their ac's and heat pumps and we are winning most deals in competition. We have installed mostly Lennox, and also Rheem, American Standard, Goodman and Thermozone. Last week we put in two new  American Standard Heat Pumps in one day!!! Thank you my many clients, please be sure to tell your friends how much money you saved and the great quality. If your air conditioner is iffy, call BOJIFFY.
According to recent reports, there is an abundance of units that show symptoms of not cooling, freezing and so forth.The homeowner's ac unit or heat pump has actually been overcharged. If your unit is not cooling, we have instruments that can measure superheat and subcooling temperatures and make sure the unit is charged to manufacturer's specifications. Overcharging a unit can shorten the life. If your unit is cooling well, it does not need to have the refrigerant tinkered around with. It does need to be inspected, filters changed regularly, airflow checked, wiring checked, volts and amps, evaporator condensation clogs and leaks, and others. 
Adding Freon
DuPont came out with a product called r-22 Freon. There are several manufacturers of refrigerant and it will be called r-22. Older units like mine use r-22.
Some of the ac's don't cool because not enough refrigerant, but there are other reasons that should be checked also. 
Like a couple of folks I visited had huge holes in their duct work.
Some coils have been dirty. 
I have seen airflow blocked because of plastic bags of stuff being place in front of the return air vent.
I talked to folks that not only did not change the filter, but did not know how to or where it was.
This year I have seen fans working but compressors not working.
I buy enough refrigerant to get a pretty good deal and charge a "lower than most" price.
I weigh the refrigerant that I put in. I know how many pounds, but always round down because unless we have our scales certified and re-certified,we shouldn't charge by weight, but  we are not in the business of getting you cool.I use "add refrigerant" and how much I charge. I use forty dollars a pound as a guideline. (at this time) Some people indicate a hundred dollars a pound. They include their higher overhead to stay in business.

My overhead is lower.
Call or text to save money.205-215-0553
Maintenance Checklist
Maintain your equipment to prevent future problems and unwanted costs. Keep your cooling and heating system at peak performance by having a contractor do annual pre-season check-ups. Contractors get busy once summer and winter come, so it's best to check the cooling system in the spring and the heating system in the fall. To remember, you might plan the check-ups around the time changes in the spring and fall.A typical maintenance check-up should include the following.
Check thermostat settings to ensure the cooling and heating system keeps you comfortable when you are home and saves energy while you are away.
Tighten all electrical connections and measure voltage and current on motors. Faulty electrical connections can cause unsafe operation of your system and reduce the life of major components.
Lubricate all moving parts. Parts that lack lubrication cause friction in motors and increases the amount of electricity you use.
Check and inspect the condensate drain in your central air conditioner, furnace and/or heat pump (when in cooling mode). A plugged drain can cause water damage in the house and affect indoor humidity levels.
Check controls of the system to ensure proper and safe operation. Check the starting cycle of the equipment to assure the system starts, operates, and shuts off properly.
Cooling Specific
Clean evaporator and condenser air conditioning coils. Dirty coils reduce the system's ability to cool your home and cause the system to run longer, increasing energy costs and reducing the life of the equipment.
Check your central air conditioner's refrigerant level and adjust if necessary. Too much or too little refrigerant will make your system less efficient increasing energy costs and reducing the life of the equipment.
Clean and adjust blower components to provide proper system airflow for greater comfort levels. Airflow problems can reduce your system's efficiency by up to 15 percent.
Heating Specific
Check all gas (or oil) connections, gas pressure, burner combustion and heat exchanger. Improperly operating gas (or oil) connections are a fire hazard and can contribute to health problems. A dirty burner or cracked heat exchanger causes improper burner operation. Either can cause the equipment to operate less safely and efficiently.
Actions To Do Yourself
Inspect, clean, or change air filters once a month in your central air conditioner, furnace, and/or heat pump. Your contractor can show you how to do this. A dirty filter can increase energy costs and damage your equipment, leading to early failure.
Source:EPA Energy Star website
When to replace and what to replace

 

From American Standard Heating & Air Conditioning FAQ (from website)

Q: I need to replace my air conditioner, but my furnace works just fine. Is it true they need to be replaced at the same time?

A: Think of your air conditioner and furnace as part of a total system. That system will work better, longer and more efficiently if all of its components are matched in capacity and efficiency. By the same token, a mismatched system—one that mixes old technology with new—could decrease system performance and overall comfort.
For example, your new air conditioner will be capable of reaching a certain SEER efficiency rating. Because SEER is determined by a complete system combination, if your existing furnace and indoor coil are older or don't match in efficiency and capacity, you might not get the efficiency level you paid for or be able to receive accurate information on what your rating actually is. Plus, an older indoor coil may even be dirty and clogged with particles, meaning more energy will be required to push air through the system.

 

 

 

BOJIFFY is an Independent Contractor and offers brands to fit your needs and budget.

Financing on Heat Pumps for qualified clients offered through Alabama Power

0

/